December 2018
2019 East Valley Citrus Clinic - Greenfield Citrus Nursery
January 12, 2019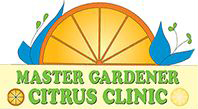 LOCATION:
Greenfield Citrus Nursery
2558 E. Lehi Rd
Mesa AZ 85207
See Map
Maricopa County Master Gardener
Arizona winter brings us bountiful citrus. The sweetest thing about blooming citrus in our home gardens is knowing the harvest of our favorite fruit is soon to follow. To better manage the flavor, size, and health of your citrus and deciduous tree fruit, join the Maricopa County Master Gardeners at the 2019 East Valley Citrus Clinic.
Master Gardeners partner with University of Arizona Faculty and industry experts to teach you all that you would like to know about Citrus.
If you have Citrus or want to grow it: Join our experts for the following activities and presentations: Tasting Tables 102 Citrus Varieties on Display Selecting, Planting and Care

Outdoor Event - Rain or Shine - No Pets - Please wear appropriate attire and bring a lawn chair.
Tickets Available at the Following Locations (CASH or CHECK ONLY MADE PAYABLE TO THE UNIVERSITY OF ARIZONA):
Maricopa County Cooperative Extension, 4341 E. Broadway Rd., Phoenix, 85040 (602) 827-8210
Greenfield Citrus Nursery, 2558 E. Lehi Rd., Mesa, 85213 (480) 830-8000
You may purchase your tickets at the gate on the day of the event!
Tickets: $10.00, Citrus Guide: $5.00 (Optional)
Registration Required: Yes