Home grown citrus should not require a regular preventative spraying program to control pests. Insects occasionally trouble citrus and may sporadically scar the skin of the fruit, but rarely do these pests render the fruit inedible or threaten the health of the plant. In fact, citrus can be grown organically without much concern. Insects may be found on citrus at various times of the year, but the amount of damage done and the length of time present does not justify the time or expense involved to control them. If the trees are healthy, pests are seldom life threatening and as the citrus plant develops, insects become even less of a problem.
Citrus can be infected by a number of diseases. The most serious one affects the lower trunk and/or root system of the plant. It is called Phytophthora. This fungus, if present in your soil, can cause the infection. Every time citrus is watered these pathogens can silently invade the root and lower trunk tissues. This disease is most active when the soil is not allowed to dry out sufficiently between watering, and especially if the trunk area is the last part to dry out.
In the final analysis, good cultural practices are all that is required to keep insects and diseases to a minimum.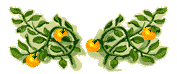 Greenfield Citrus Nursery
John P. Babiarz and Debra L. Hodson, Arizona Growers Since 1972
2558 E. Lehi Rd., Mesa, AZ. 85213-9711
(480) 830-8000 FAX: (480) 833-5705
October thru May
Mon-Sat: 7am-5pm Sun: 10am-4pm

June thru September
Mon-Fri: 6am-4pm Sat 7am-4pm Sun: closed