The best time to plant young citrus trees depends on the climate of your area. In the Salt River Valley, fall planting is preferred. This is particularly true if spring weather warms up quickly. Fall planting gives the young trees ample time to become established before the stress of high temperatures.
Planting your citrus tree at the proper depth is the most important factor. Plant the tree too low and the trunk will stay wet. This practice encourages bark diseases. Plant them too high and the rootball will dry out too quickly. Thus, not enough moisture will get to the tree.
Note: All trees need 1-2 years to recover from transplanting. Please monitor watering and feeding schedules to meet seasonal conditions.
Detailed Planting Instructions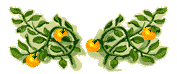 Greenfield Citrus Nursery
John P. Babiarz and Debra L. Hodson, Arizona Growers Since 1972
2558 E. Lehi Rd., Mesa, AZ. 85213-9711
(480) 830-8000 FAX: (480) 833-5705