Assuming your citrus trees have been in place at least two to three years, citrus trees do best when they are flooded then allowed to dry out before re-watering. The soil composition, the drainage of the soil, the amount of rainfall you receive, and the time of year all determine how often you need to water your citrus trees. Within the Salt River Valley, soil conditions can vary. A good beginning watering schedule during the summer months (Apr - Sep) is to water the trees every 7 to 10 days. During the winter months (Nov - Feb) water the trees every 3 to 4 weeks. Over watering can be just as much of a problem as not watering enough. Obviously a wilted tree may mean a lack of moisture. Then again, too much moisture leads to root decay, with the symptoms showing a wilted appearance. This sometimes leads to a dilemma--too much or too little.
One way to check if your watering schedule is correct is to dig down 6 inches, about mid-way between the trunk and the drip-line. If the soil sample sticks together after squeezing in your hand, then you do not need to water for another week. This check will help you in establishing the correct watering schedule for your trees.

To grow citrus successfully, it is also necessary to fertilize yearly. In the Salt River Valley our soil is low in nitrogen, and therefore it is the main element needed when you fertilize.
To get the most out of your fertilizer, in addition to normal soil surface application, make 10 - 12 holes six inches deep three-fourths of the way out from the base of the plant and the drip line. Put equal amounts of fertilizer into each hole and cover over the holes with soil. Completely fill the basin with water.
In calculating the fertilizer amount, consider these factors:
| | |
| --- | --- |
| | The type and amount of fertilizer. |
| | The number of years since the tree was planted. |
| | The type of citrus. |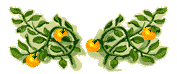 Greenfield Citrus Nursery
John P. Babiarz and Debra L. Hodson, Arizona Growers Since 1972
2558 E. Lehi Rd., Mesa, AZ. 85213-9711
(480) 830-8000 FAX: (480) 833-5705
October thru May
Mon-Sat: 7am-5pm Sun: 10am-4pm

June thru September
Mon-Fri: 6am-4pm Sat 7am-4pm Sun: closed